Stakeholder feedback and consultation
The review built on previous and ongoing engagement with interested parties, including parents and carers. A range of information, previous consultation feedback and data has been used to inform the initial recommendations.
In addition, reference groups were set up to discuss and review developments along the way. The groups included school leaders and local authority officers with knowledge of the areas being discussed.
The review is far reaching in its scope and recommendations. The summary which can be accessed above is broken down into the following sections:
Early Help and SEN support,

Quality Assurance and commissioning,

Emotional wellbeing,

Specialist Settings,

Inclusion and PRU Offer
Senior leaders within the local authority have agreed to progress some of the review recommendations already. This means some work is already underway to make improvements for our SEND community. In some cases these are now complete. This is highlighted in the report, but some examples are:
Piloting a new early help for SEND learners for 3 months (due to start later in the year)

Bringing together the EHCP teams to ensure a joined-up service - complete

Reviewing the 20 week EHCP paperwork and processes to ensure it is person centred and is best practice - in progress

Developing a quality assurance framework for EHCP plans and having staff allocated to look at quality -process complete and role advertised

Develop a sufficiency strategy for special school places- in progress

Revise the special school and resource funding - in progress with school input
The work already underway will be monitored by the council's senior management and partners through the SEND Board.
There are other aspects of the review which need wider consultation. They are significant specific service changes which are contained in this public consultation. The purpose of the consultation is to make sure that we listen to and gather views from a wide group of people and use these to shape these final proposals.
Timeline for the review
The review started in June 2019 and was completed in early 2020. The review contains a number of recommendations. Some of them require public consultation and it is this set of recommendations we are consulting on between October and December 2020. Following this, the feedback from the consultation and focus groups will be considered. Final proposals will then be worked up and consulted on between January and April 2021, with the final implementation plan to be considered by the Council in June 2021.
DSG Consultations- Final agreed timeline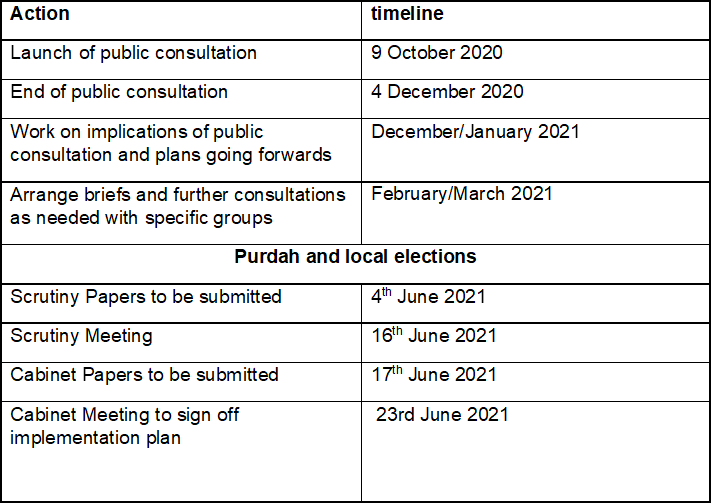 Recommendations that are out for consultation
The recommendations in the review which are now in this public consultation cover the following areas:
Early Help and SEN support,

Emotional wellbeing,

Specialist Settings,

Inclusion and PRU Offer