Overview
Stockport Children's Book Award encourages children aged 4 to 11 years to read for pleasure by celebrating and highlighting some of the best current children's fiction.
To ensure the winner is voted for by the children of Stockport, you need to live in Stockport or attend a Stockport School to take part. You will be asked to enter this information at the end. Unfortunately your vote won't be counted without this information. If you are an adult voting for the child, please enter the child's age.
The award has 3 categories and there are 4 books in each category, you will be asked to select one from the relevant category. If you have not read the books in one of the categories, or do not want to vote, press next to move onto the next category.
- Early Years Foundation Stage and Key Stage 1
- Lower Key Stage 2
- Upper Key Stage 2
Take part from home and vote for your favourite. Winners will be announced in a special virtual announcement on 10th November.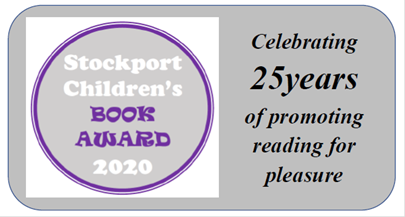 What happens next
Thank you for voting for your favourite book.
We will let you know who the winners are by October 2020.