Ashfield Road Segregated Cycle Route
As part of the wider proposals for the Cheadle Towns Fund there is a desire to provide a route for cyclists from Bruntwood Park to Cheadle Village and on to the new station, which, subject to success of the Investment Plan, will be located on Manchester Road. A route for cyclists has been identified and a section of the route utilises the quiet roads of Brookfield Road, Oak Road, Whitegates Road, Ashfield Road and Ashfield Crescent, bringing cyclists to Massie Street car park, where cycle parking will be provided.
At Ashfield Road, between Cheddle Lodge and Oak Tree Court, there is an existing road closure, through which a footway is provided for pedestrians. This footway is narrow and unsuitable for cycle use.
The existing echelon parking bays adjacent to Oak Tree Court and Cheadle Library are sub-standard and the narrow carriageway width results in motorists overrunning the footway to enter/exit the bays, at risk of collisions with pedestrians.
To provide the desired cycle route it is therefore proposed to introduce the following measures, these are shown on the enclosed plans and are described from south to north:
4 new build outs on each corner of the junction of Whitegates Road and Ashfield Road to reduce the crossing distance for pedestrians and slow vehicles down when turning into Ashfield Road from Whitegates Road.

4 new trees to be planted within the build outs and dropped kerbs and tactile paving to be provided to assist visually/mobility impaired users and those with push chairs.

Existing overgrown verge on the eastern side of Ashfield Road, adjacent to No. 18, to be removed and footway widened/resurfaced.

Existing overgrown verge on the western side of Ashfield Road, adjacent to No. 22 Ashfield Road, to be cut back and footway resurfaced.

A new 3.0m wide segregated cycle track through the existing closure on Ashfield Road. The existing 2.0m pedestrian footway will remain but this will be resurfaced and root damage will be rectified. The lighting will be assessed and improved if necessary.

The echelon parking bays on Ashfield Road, adjacent to Oak Tree Court and Cheadle Library, will be removed and replaced with parallel parking bays. This will improve pedestrian safety and allow cyclists to safely use the road alongside the parked vehicles. The existing footway will need to be reduced to 2.5m to provide sufficient space for the movements of vehicles accessing the parking bays. A turning head will be provided at the southern end of the bays.

The area to the west of the proposed cycle track will be landscaped, subject to agreement with Stockport Council's Conservation Officer.

Formal adoption of Ashfield Road between Whitegates Road and Cheadle Library to allow Stockport Council to maintain the area in future.

Parking at the library to be improved to provide 10 spaces perpendicular to the carriageway. This will require 1 lighting column to be relocated.

A continuous footway at the library car park entrance and at the junction of Ashfield Road /Ashfield Crescent to give priority to pedestrians.

"No Waiting at Any Time" parking restrictions opposite the library car park entrance.

A new uncontrolled crossing (dropped kerbs and tactile paving) north of the library entrance to provide a route for pedestrians to Ashfield Crescent.

A new 3.0m wide segregated cycle track through the existing closure at the western end of Ashfield Crescent to provide access to Massie Street car park. By removing the existing parent/child space and recycling bins within Massie Street car park this will provide space to install other features such as children's play equipment, benches and cycle parking.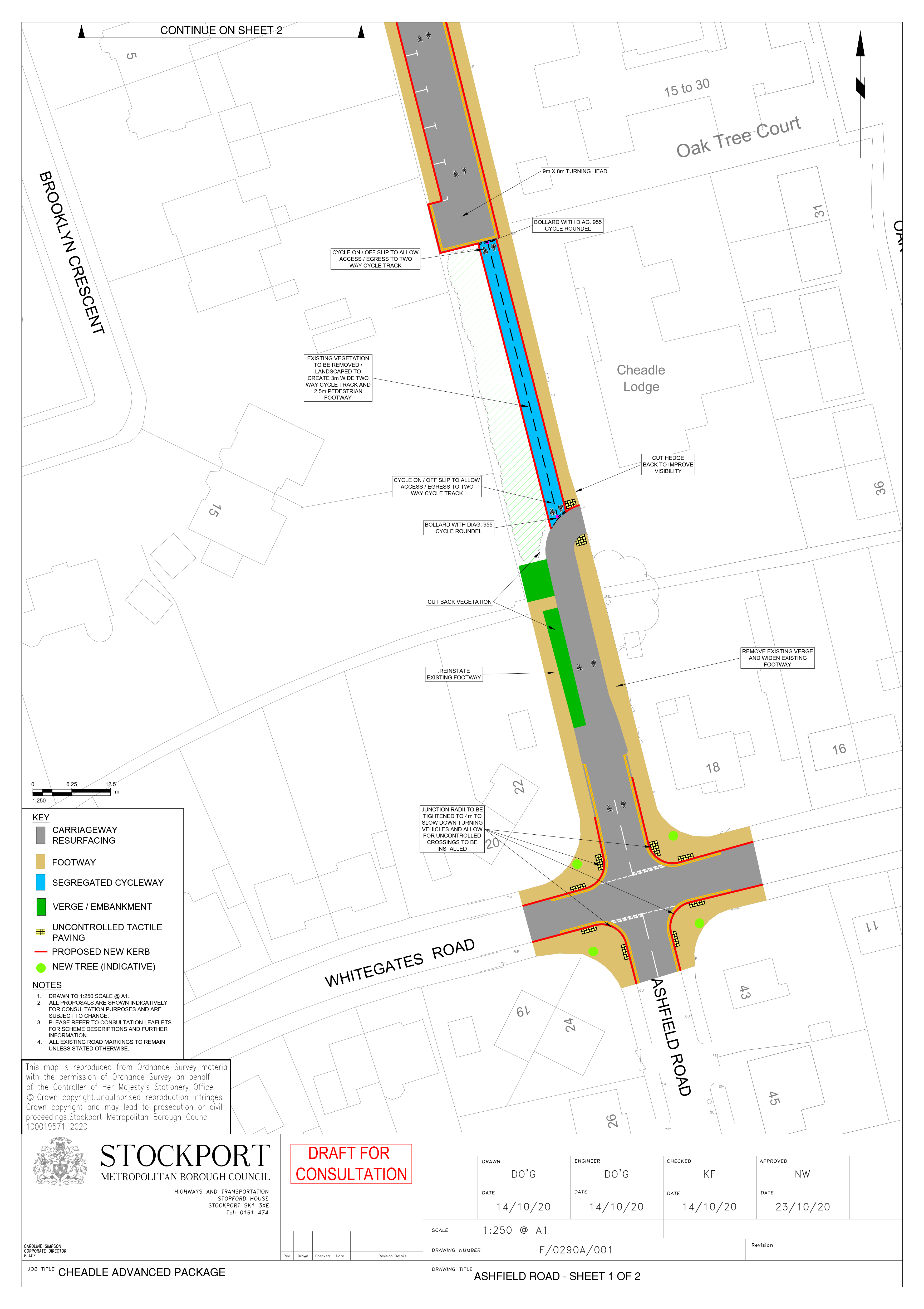 Click here to view the proposal in another tab.
Ashfield Crescent School Street
Ashfield Crescent has been identified as a suitable location to trial a 'school street'. A school street involves the temporary closure of the road on which a school is located to all motorised vehicles, during school drop off/pick up periods. During this period only pedestrians, cyclists and permit holders will be able to use the road. This improves road safety for all users and assists with safe access to the school.
Cheadle Primary is located on the northern side of Ashfield Crescent and currently has 3 pedestrian accesses into the school. Ashfield Crescent is a 'No through road' and has 'School Keep Clear' road markings along the northern side of Ashfield Crescent, for most of its length, and for a short section along the southern side. There is a Doctor's surgery and a chemist located on Ashfield Crescent. Businesses that require access during the hours of the restriction will be able to apply for a permit.
To introduce a 'school street' the following measures are proposed:
Fold up signs on new posts displaying 'Pedestrian and Cycle Zone, no motor vehicles, Mon – Fri, 08.30 – 9.15am and 2.45pm – 4pm, except permit holders' on each side of Ashfield Crescent at its junction with Ashfield Road.

CCTV camera to be installed on new lighting column relocated from between No. 9 and 11 Ashfield Road to between No. 11 and 13 Ashfield Road.